You scare companies with your email address!!!
… and with your Facebook profile?
Here I'll present some of the worst Facebook profiles and some weird comments or terrible posts like that:
Example 1:

"J" posted this on Facebook: "How did people no what roads to take before google maps was made?"
(see: the word 'no' is misspelled)
Someone commented: "They used maps…" and "J" answered: "wat?? No, I said before google maps…"
Example 2: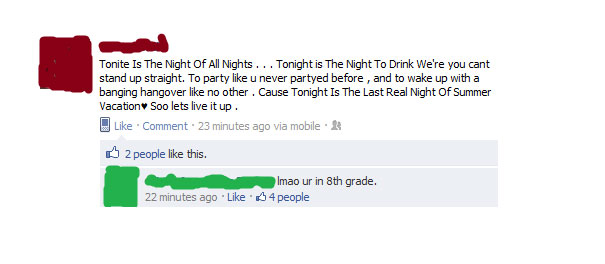 "Tonite is the night of all nights… tonight is the night to drink, we're you cant stand up straight. To party like u never partyed before, and to wake up with a banging hangover like no other. Cause tonight is the last real night of summer vacations… Soo lets live it up."
Yeahhh… I need to hire this guy, because we'll have amazing parties at the company… ever week! 🙂
During my Seminars, it's usual to hear:
"…ok, but I use Facebook for personal purposes!"
No… everyone can see things about you on your Facebook, so, take care of your Facebook profile, ok?
You're losing opportunities because of that.
Example 3: An image of Mount Rushmore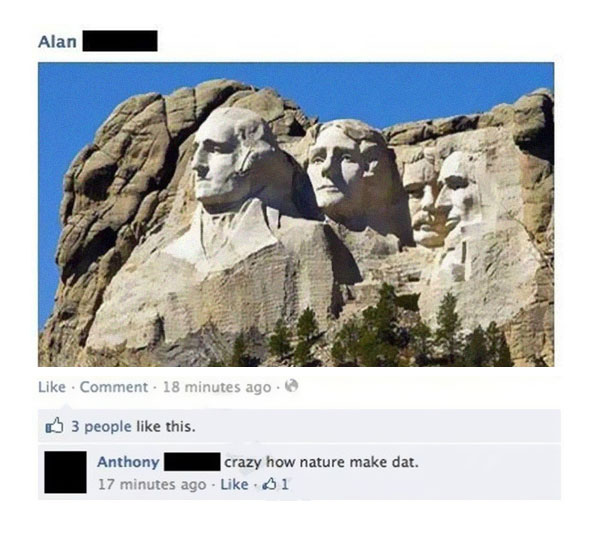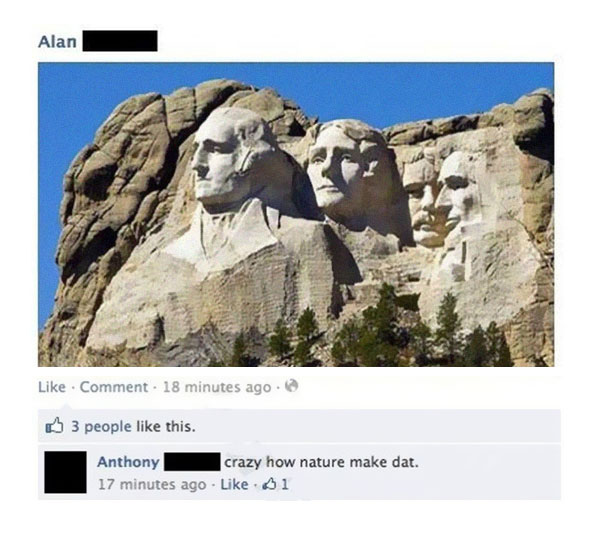 In this picture, Anthony wrote: "crazy how nature make dat"
Nature? Really? Let find out who is Anthony, because I don't want this guy in my campany. 🙂
Example 4: This is terrible!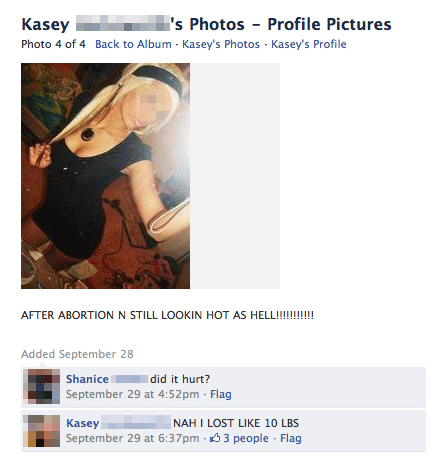 Kasey shared this sexy picture on her Facebook profile and wrote:"After abortion an still looking hot as Hell!"
Girl… you can't play with this kind of subjects!
Someone commented: "Did it hurt?"
And she said: "Nah… I lost like 10 pounds!"
What?? God, this is terrible!
Maybe you're thinking: "it's not possible, no one posts a thing like that?"
Yes,  this exists! It's possible to see every day on Facebook!
Example 5: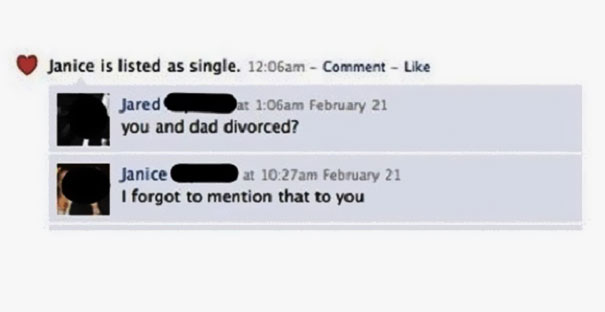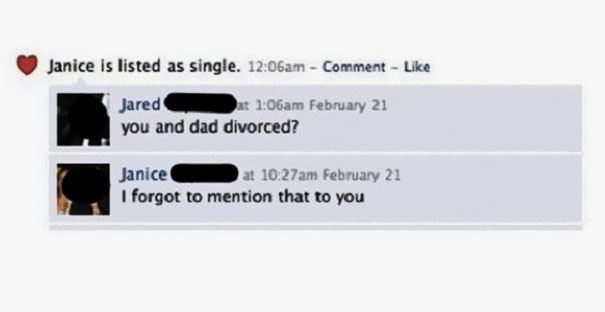 Janice post this on her Facebook profile: "Janice is listed as single."
Her son wrote:  "You and dad divorced?"
Janice said: "I forgot to mention that to you."
Everyone can see this… even your children. Be careful!
Example 6: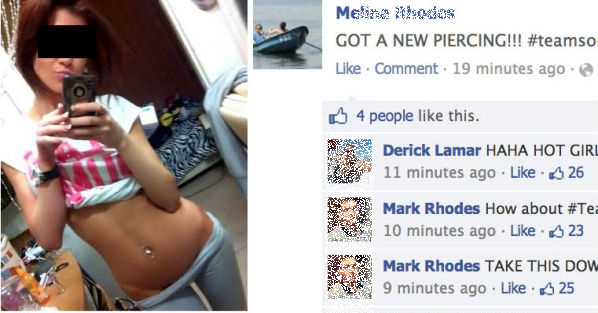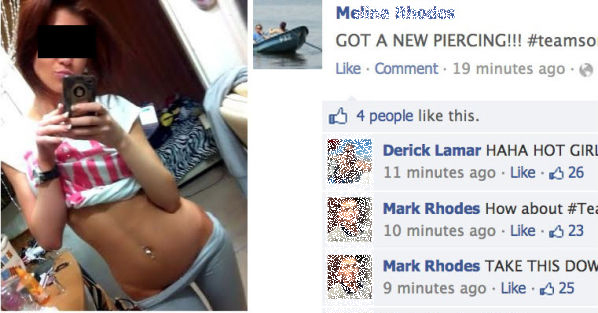 Why the hell do you need to show your body every time you have a new piercing or a new tatoo?
In this example, someone wrote: "Got a new piercing"!
If you share that kind of pictures on Facebook you'll receive comments like that: "take this down!"
Example 7: No comments…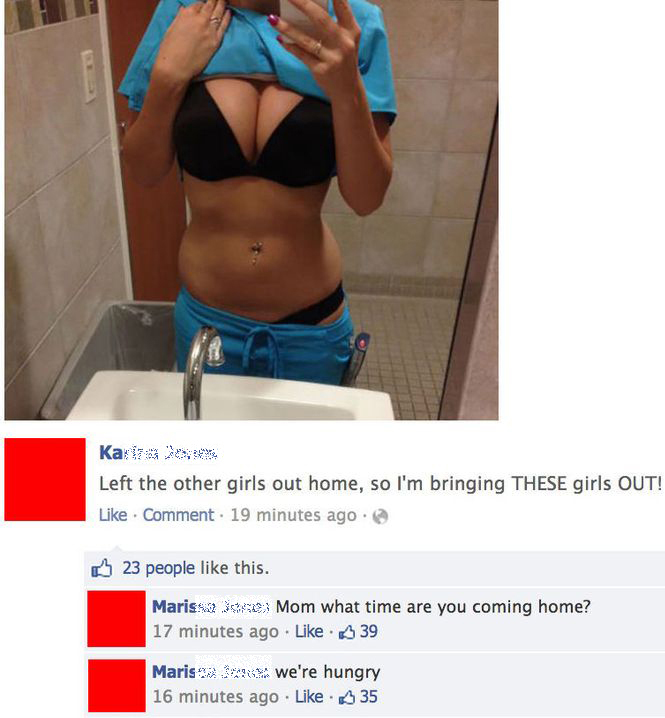 "Ka…" shared this picture and wrote: "Let the other girls out home, so I'm bringing these girls out!"
And received amazing comments:
"Mom what time are you coming home".
"We're hungry".
You have to realize that kids write directly on your Facebook posts, they don't use private messages! 🙂
Example 8: Visiting grandma…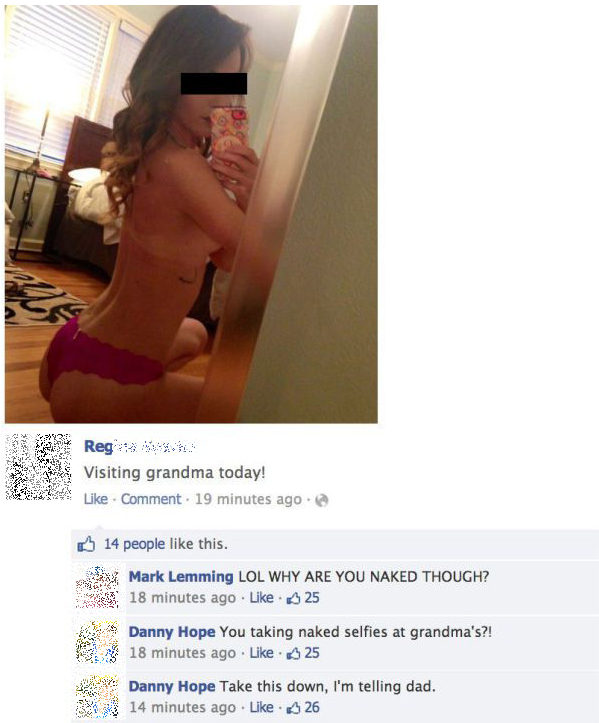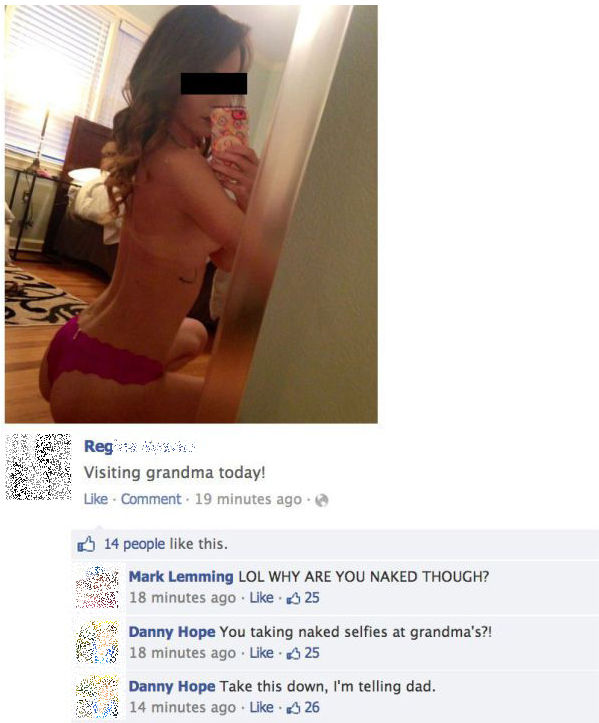 "Reg…" posted this on her Facebook profile: "Visiting grandma today!
Really? Almost naked?
And received some interesting comments:
"why you are naked?
"You taking naked selfies at grandma's?"
"Take this down, I'm telling dad."
Example 8: The proud husband!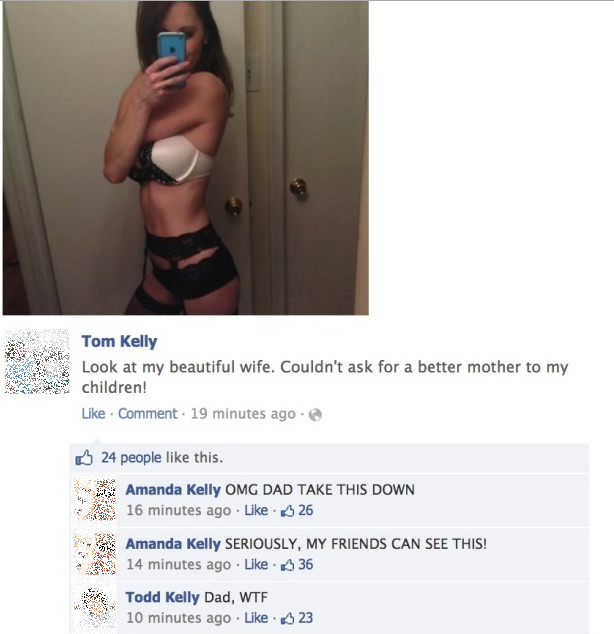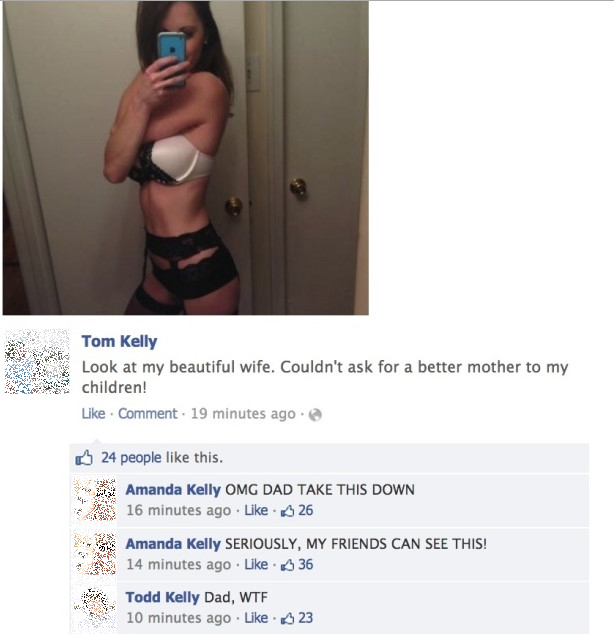 "Tom" wrote a beautiful description of this photo: "Look at my beautiful wife. Couldn't ask for a better mother to my children!"
… the proud husband! 🙂
"Amanda" (his daughter) commented: "Oh my god, dad, take this down! Seriously, my friends can see this!"
"Todd" (his son) commented: "Dad, wtf!"
Remember: The recruiters will search your name, or your email, on social networks so, you have to "work" your profiles to impress them.