At the end of 2014, I was invited to give a class at the College of Higher Education in Viseu because of the study of flora and fauna that my company (NOCTULA – Environmental Consultants) had been carrying out since 2009.
I hadn't taught for seven years, but I decided to rise to the challenge, relishing the chance to be back in contact with students. But on one condition: that I be given the freedom to make the students feel decidedly, but constructively, uncomfortable. I wanted to challenge them with some of the issues they will be faced with when they try to enter the job market. I hoped to share a few tips and tools they would be able to use to make them stand out from the crowd.
They gave me complete freedom to do whatever I wanted and that was when I put together and presented the first workshop "How to find a job in 30 days".  In that first presentation, there were not only students in the audience, but also professional people seeking inspiration and new ideas to improve their careers, as well as retired professionals who wanted to expand their network of contacts.
During the following months, various opportunities arose and invitations came along for me to give the workshop again. In no time, I had passed on tips, strategies and tools, promoted debates and moments of sharing about how to get ahead in a career with over 2 500 people.
Several participants actually 'complained' that I was sharing so much new information in the workshop that they found it hard to take it all in in one 3-hour session. Others told me they wouldn't be able to do everything in 30 days without some sort of guidebook. And so this book was conceived! I hope it will be a useful guide for anyone who wants to put the 30-day plan into action, which will bring you results that most people will simply never manage to achieve, even after trying time after time.
The name I chose for the workshop, "How to find a job in 30 days", has also been criticised and people have asked me if I guarantee jobs for all workshop participants within 30 days! This book was not written for those who expect guarantees without lifting a finger. If you think you'll be getting a job just by reading this book, think again! That simple cause-effect relationship may never actually happen. Although there have been people who found work in under 30 days after coming to one of my workshops, I don't want you to think I'm going to be giving you some kind of never-seen-before revelation for getting a job with no effort at all, whatever the circumstances.
This book will teach you little strategies which have worked for me and which are so universal and powerful that anyone who wants to stand out from the crowd can get results.
If I can do it, anyone can!
I am not special, nor am I any better than the next man (or woman)! I have tried and tested everything that I am going to be telling you about in these pages, so try to learn from what went well and avoid making the same mistakes that I made, which led to a few epic failures.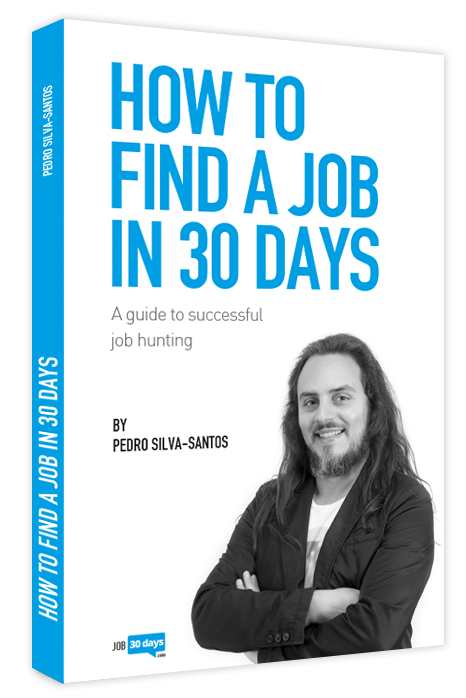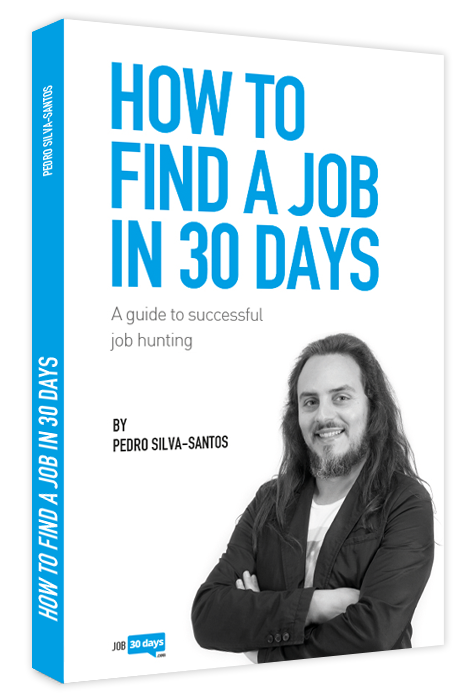 Be under no illusion!
Be under no illusion, employers receiving your CV will type your name and email address into search engines like Google and if they find nothing interesting about you, but do find loads of fascinating information about other candidates applying for the same vacancy, who do you think will have the upper hand in those vital first few seconds of looking at CVs?
So… there is no point in sending your CV to companies before you have a strong and coherent presence on the Internet.
So how is this book organised?
It is laid out so you can work on one topic per day.
Check your web presence, create a profile on the professional network LinkedIn, use Facebook to stand out from the crowd, learn to write a CV, develop strategies to avoid secretaries on the phone and how to behave in a job interview. These are just a few of the things I'll be covering in the 30 days of the challenge.
The book "How to find a job in 30 days" also has this website www.job30days.com, where you can access up-to-date information and find resources to help you organise your contacts list and download attractive CV models, among other things. All the information is regularly updated on the site and on social media.
At the end of each day of the challenge, you will find a link to a practical webpage dealing with the topic of the chapter you have just read. Each page on the site has instructions with images which complement the text, making what is in the book more visual and easier to follow.
Take a look at the chapters of the book and the links where you will find the images I mentioned earlier:
– Day 1 – What do you look like on the Internet?
– Day 2 – Your Facebook profile
– Day 3 – Your Google+ profile
– Day 4 – Setting up a profile on LinkedIn
– Day 5 – Creating a network of contacts on LinkedIn
– Day 6 – Recommended daily reading
– Day 7 – Sharing useful content on social networks
– Day 8 – Why does everything keep changing…?
– Day 9 – Read inspiring books
– Day 10 – Check everything you have created so far
– Day 11 – Create an email signature & standard texts
– Day 12 – Decide what you want to do
– Day 13 – Define where you want to be in 5 years' time
– Day 14 – Create your own business card
– Day 15 – Learn to break the ice with strangers
– Day 16 – Tips for getting noticed
– Day 17 – Prepare and practise your elevator pitch
– Day 18 – Follow companies on social media
– Day 19 – Make a list of the companies you want to contact
– Day 20 – Write your CV and a covering letter
– Day 21 – Write to companies by e-mail
– Days 22 a 27 – Replicate good habits
– Day 29 – You've been called for interview… now what?
– Day 30 – Get ready for the interview
You have probably thought about trying to lose weight, giving up smoking or learning something new. But you never got round to it, so you didn't see the results you were hoping for.
There is a Chinese proverb that goes like this:
"The best day to plant a tree was twenty years ago. The second best day is today!"
Today is a great day to start something new, so commit to this 30-day challenge and share the results with me by email at: info@job30days.com or on social media.
If you don't have the book "How to get a job in 30 days", you can get it here.